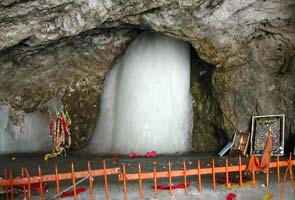 Srinagar:
The Shri Amarnath Shrine Board (SASB) has said that 100 post offices across the country would register devotees for the annual pilgrimage this year.
The post offices are located in Uttar Pradesh, Madhya Pradesh, Punjab, Haryana, Bihar and Gujarat, an SASB spokesman said.
The list of all the 100 post offices was available on the website of the Board, he said.
he post offices would start registering pilgrims from May 15, the spokesman said.
The pilgrims could also register on-line on the website of the Shrine Board from May 7 onwards, he added.
Pilgrims need to obtain health certificates from registered medical practitioners before seeking a Yatra permit, the spokesman said.
"Even those Yatris who register on-line shall need to furnish health certificates for embarking on the pilgrimage," he added.
Source